Hello everyone,
It's a classic story this week, The Gruffalo by Julia Donaldson.  I wouldn't be surprised if you knew the words by heart it's such an often read story.  This is a great opportunity to extend the children's language with all the descriptive language that's used.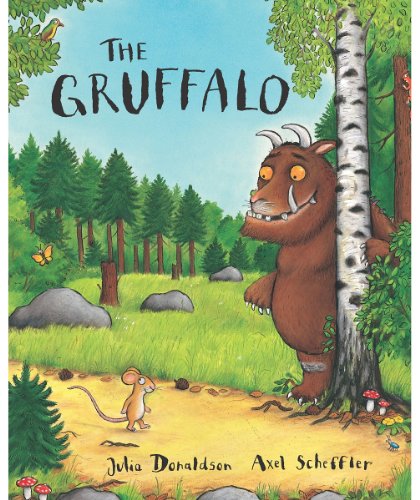 Ask your child to join in the refrain.  "Don't you know there's no such thing as a Gruffalo?!"  The children absolutely adore repeating the refrain and their enthusiasm builds with each page that's turned.  Could you make up your own Beastie and describe him?  Would he have three googly eyes with bright red lashes?  Is  your Beastie as tall as a tree or as wide as a bus?  There's a lot of fun to be had describing things.  It's something that will entertain them for ages and they can draw a picture of their Brilliant Beast and email it to us.  Enjoy!
Also, next time you're in the woods look out for The Gruffalo and your made up Beast.  Be on the look out and describe what you see.  The tree may have knobbly bark or there may be a lot of crunchy, dry leaves on the ground.  There are  several Gruffalo Trails in the area that you can walk (Covid restrictions allowing).  I've taken children up to the Horsenden Hill Gruffalo Trail in Greenford, Middlesex.  It's a nice walk for this age group but better take wellies!
Until next time, do good looking for adventures, clean your ears out for good listening and turn your noggins (brains) on for good learning.
Take care and stay safe,
Mrs Howe, Mr Salih, Mrs Mitzman, Mrs Hill and Mrs Bence