Habari everyone!
That is a way of saying "hello" in Swahili, and "hakuna matata" is a way of saying "no worries" in Swahili too.  The phrase 'hakuna matata' was used in the film The Lion King and if you have seen the film you will know that they have a song all about it!  In fact when I'm worried or anxious I like to sing the song, it lifts my mood and makes me feel happy.  I have popped a YouTube video of it down below.  Why don't you have a listen to it, how does it make you feel?
As you can see the main character in the film is a lion cub called Simba, but how much do you know about lions?  Find out some amazing lion facts at the link below…
Get Active!
Get your wiggles out by dancing along to Just Dance Kids below, you'll be dancing and singing all day after this …
Lions are known for being brave, try doing Lion Pose with Jaime from Cosmic Kids.  Lion pose is one of my favourites because you get to ROAR like a lion and it helps to get rid of all your anxiety or worries.
Afterwards try saying some affirmations.
Affirmations are positive words that you say to yourself to help make you feel happy or good about yourself.  Try the words below and then try making up some of your own.
I am brave
I am kind
I am happy
I am unique
I am awesome
I am cool
Even if sometimes you don't feel like saying the words, still give it a go as just saying positive words can help change your mood from grumpy, worried or sad to more positive ones like happy, excited or funny.
Try making an affirmation jar like the one below, each day when you wake up you could take one out and repeat it to yourself three times and then whenever you want to throughout the day.
How about trying some lion inspired actvities, like the one below…
Or you could make your own binoculars like these ones and go out in your garden or a park, if you have a balcony go out and look far and wide, what can you see?
Using your imagination you could pretend you are on the savannas of Africa and see if you can hunt out any lions, elephants, giraffe, buffalo or other animals.  Turn those listening ears right up high and you never know you may hear the roar of a lion or the call of a monkey?
What is a worry?
A worry is anything that makes you feel nervous or uncomfortable.
A worry can make you feel sad.
A worry can also make you feel upset or scared.
BUT it's very important for you to remember that ALL of us worry at sometime, yes grown ups too, it is normal and it is simply a feeling that will pass, just like all the other feelings that you experience, like happy, sad, angry, silly etc.
Sometimes you may have a bad dream and that might make you worry, remember that dreams are like our brains are playing a film or a picture, they are not real and did not happen in real life.  Before bedtime try listening to a bedtime meditation or story, you could also try saying some positive affirmations such as 'I am calm' or 'I am safe'.
How to make a dream catcher activity
Story Time
Watch the story below about Ruby and her worry.  What happened to the worry through the story? How do you think Ruby was feeling at the beginning of the story, the middle of the story and then right at the end? How does Ruby get rid of her worry?  Watch and find out…
So Ruby got rid of her worry by talking to someone about it!  This is one of the best things you can do if you have a worry.  You may talk to a grown up, a friend, a pet or your favourite toy?  I used to have a goldfish when I was little, his name was Freddie, I used to tell Freddie my worries and then watch him swim away with them, that felt so good.
Here are some other ways that may help you..
Make a worry stone, paint a stone and keep it somewhere safe and go to it whenever you need it.
Worry dolls are from a country called Guatemala, you can learn all about worry dolls by clicking the link below, it also shows you how to make your very own.
Who recognises this friend below?
Yes it's our worry monster and as you probably remember at Merry Hill every classroom has one. Write or draw your worry on a piece of paper then pop it into his mouth and he will munch your worry away!
If you don't have a worry monster at home – don't worry, try making one.  The one below is from the Crayola website try the link below…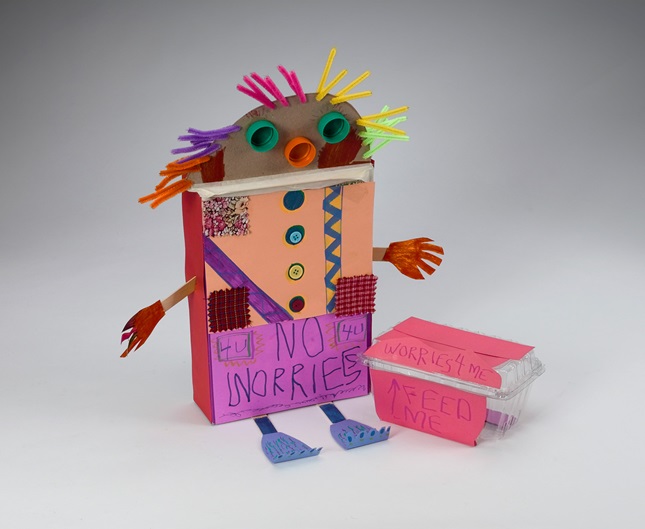 What a fab worry monster – if you make one please share your pictures with us by emailing on the nursery email address.
Quiet Time
Bubble Breath
When you are anxious or upset try some bubble breathing this will help you to calm your mind.
Here's how..
Or watch the video below to help you…
Here's how to make your own bubbles if you don't have any to hand.  You can even make a fancy bubble wand…
Now find your favourite place to relax, get comfy and cosy and listen to this weeks mindful meditation, its called the Magic Bubble Blower.  Afterwards why don't you try saying an affirmation?  Which one will you choose today?
Kwaheri (goodbye in Swahili) and I will see you next time and remember don't keep those worries in, share your worry and you will feel so much better.
Lots of love,
Mrs Mitzman and all your nursery teachers xxx