Hello everyone,
This week we are reading One Fish, Two Fish, Red Fish, Blue Fish by Dr Seuss, a classic children's author.  Dr Seuss excelled at making silly, fun rhymes which ignite children's interest in rhyme.  The illustrations are also very amusing and capture a child's attention.
Literacy  – Read the story if you have a copy (libraries usually do).  Read the different poems in different voices.  Can your child repeat some of the rhymes with you?  As always, listen out for the rhyming words and see if you can think of a different rhyming word that would fit.  Could you make up your own rhymes?  Innovating is a key part of Talk for Writing and will really help them.  Discuss the different poems, which is their favourite and why?  Of course, ask them which one wasn't their favourite, and don't forget to ask them to be specific about what they didn't like.  Expressing your likes and dislikes articulately is a very important skill, and important to give a child many opportunities.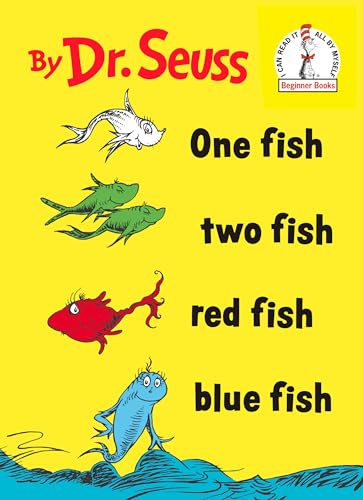 Maths –  It's in the title! Count, count, count!  Can you think of any other counting rhymes?  Could you make up your own?  Below is a link to some songs we sing regularly.  It helps them not only to count in order but to practice skills such as counting backwards (the precursor to subtracting) but perhaps you could extend their counting skills by singing songs such as The Ants Go Marching Two by Two (we will be learning this song for our Purple Up Day celebrating Military Families around the world).  You can reenact the songs as they all have actions you can repeat.
10 Classic Nursery Rhymes and Songs to Count With Kids (rainydaymum.co.uk)
The Ants Go Marching | Kids Songs | Super Simple Songs – YouTube
Until next time, do good looking for adventures, clean your ears out for good listening and turn your noggins (brains) on for good learning.
Take care and stay safe,
Mrs Howe, Mrs Bain, Mrs Mitzman,  Mrs Hill and Mrs Bence