Hello children,
Thank you for being patient this week.   This is a very big file and Mrs Howe has learned a new skill to be able to share it finally.  I was resilient and persistent!  It's very, very, very long…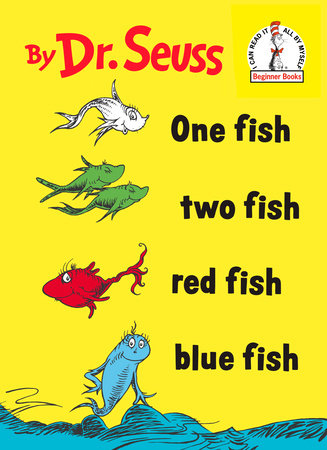 This week's story is One Fish, Two Fish, Red Fish, Blue Fish.  It is a rhyming book by Dr Seuss.  There are some tricky rhymes in the story even though the words are simple.  When you say the words they can muddle up on your tongue and start sounding very funny.  Those sorts of rhymes are called tongue twisters.  Try some out on the link below, it's fun.  Can you guess why they're called tongue twisters?  See if you can spot my tongue getting a bit twisted when I was reading and had to say the words very carefully.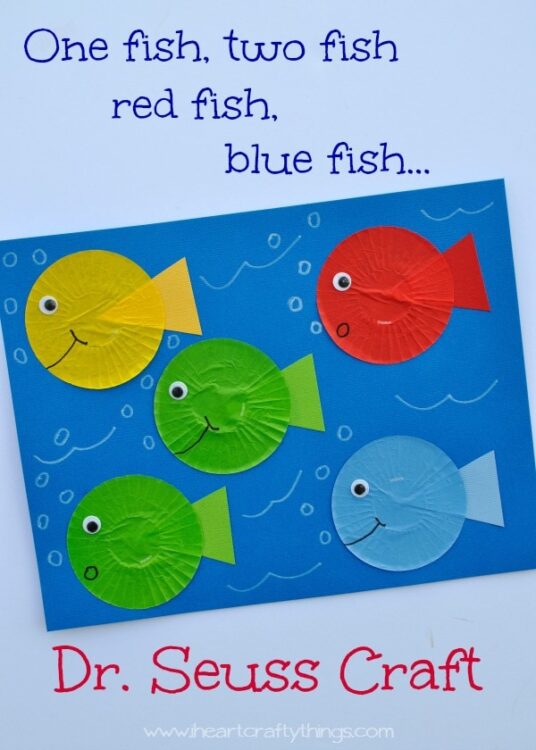 You could try making your own fish using cupcake liners or cut out the shape yourselves from paper.  What shapes will you use to make your fish?  Challenge yourself to use as many as you can.  What do you think a hexagonal fish would look like?  Or what about a rectangular one?
Could you make a fish out of things around your house? You could use a plastic bottle or the inner tube from kitchen roll.
Lots of different techniques are used here.                    They've painted the background first then added the fish using a 3D effect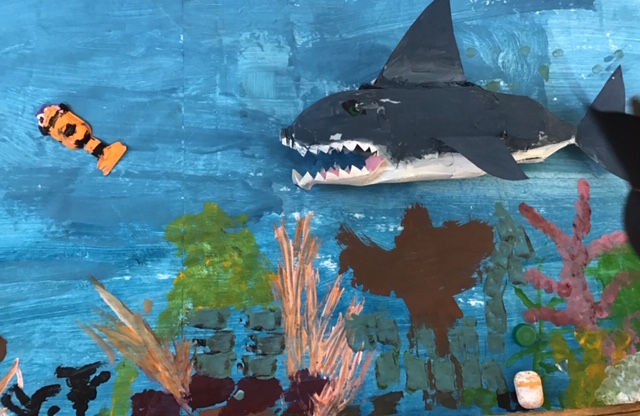 .  Tissue paper was squished to make the small fish then painted and eyes glued on.  The shark was made using a bigger piece of tissue paper, glued onto the paper and the fin was added using a bit of cardboard which is stronger.  You could really challenge yourself and find even more things to use on your multi-media collage.  The sky's the limit!
What about using some play dough?
Could you make a rainbow fish?  Or another interesting pattern on your fish?   
We'll be learning more about fish next week when we read a fantastic story about a little girl and what she finds in her pond on evening.  I wonder what it could be?
Until next time, do good looking for adventures, clean your ears out for good listening and turn your brains on for good learning.
Take care and stay safe,
Mrs Howe