Hello everyone!
This week's story is We're Going on a Bear Hunt by  Michael Rosen.  It's a  story that's a firm favourite with most children and adults alike.   There are so many wonderful ways of adapting this story.  There are so many opportunities for language development that the sky and our imaginations are the limit.
To support their mathematical language development focusing on the positional language used is important.  A very easy way of giving your child an opportunity to use it is to go on your own Bear/Lion/Dinosaur Hunt. It's an activity you can do on a rainy day too, just go for a 'walk' around the house.
Using different words to describe different textures outside supports their creative development.  This in turn gives your child experiences they can draw on when it comes time to do more formal writing of stories.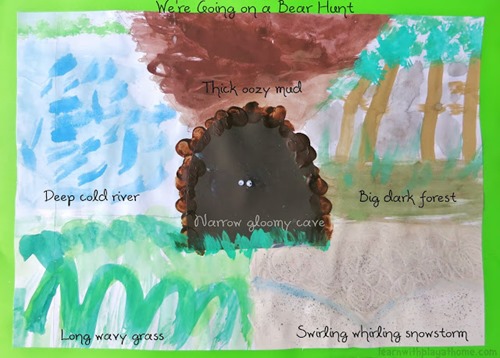 You could create a 'story map' of your journeys.  There are a lot of tales to be told using a map.  You could also make a pair of binoculars out of kitchen/toilet role.  Could you take a clipboard or something else to record what you see on your journey?
Could you make a Bear Cave?  You could make a list of things you will need to take with you on your bear hunt or things you might need in your cave.
Until next time, do good looking for adventures, clean your ears out for good listening and turn your noggins (brains) on for good learning.
Take care and stay safe, 
Mrs Howe, Mrs Bain, Mrs Mitzman, Mrs Hill and Mrs Bence