Hello everyone,
Superworm is super strong, Superworm is super long!  This is yet another great story by Julia Donaldson.  It is a story about the adventures of a super kind and caring worm.   This book is a perfect opportunity to discuss what your child feels really confident or 'super' doing.  For instance,  in class children are super climbers or super name writers or super tidier uppers!  It's a terrific story to highlight your child's strengths.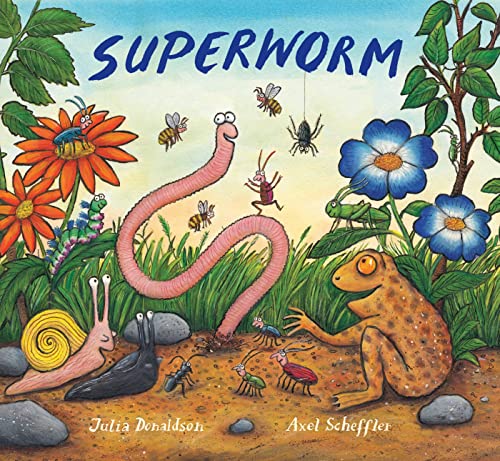 During Literacy and Communication and Language we have been retelling our story and focussing on some interesting facts about worms.  Could you look at some non-fiction books with your child and see how many facts they can retell?  You could also make your own book and innovate the story to include a different animal that is a superhero, or make a rhyming book,  your child can illustrate the stories.  What words does the author use to describe Superworm and his amazing abilities?  Perhaps you could  make up some new ones?  Write a new page for the story using a different animal, how would Superworm be able to help?  Let your imagination go wild!
We are looking at measurement in Maths .  Could you make a playdough worm and measure how long he is?  Perhaps you've got some marks on a door frame with your child's height.  Compare how tall they were and how tall they are now.  Could you measure the amount using a ruler/meter stick/tape measure?  It's a great opportunity to give them practical experiences and relate these to measuring.  When you next go to the supermarket, see if your child can help you weigh your fruit and vegetables.  It might take a little longer than usual but they will be engaged and this will support their developing skills for Reception.
A wormery is simple to make using things you have at home.  Give it a go, the trails they leave are fascinating to watch.
Worm composting / RHS Gardening
Until next time, do good looking for adventures, clean your ears out for good listening and turn your noggins (brains) on for good learning.
Take care,
Mrs Howe, Mrs Bain, Mrs Mitzman, Mrs Hill and Mrs Bence